Center for Natural Carbon Capture
Yale Center for Natural Carbon Capture
Finding solutions to climate change through advances in natural carbon sequestration.
"Yale's efforts to address climate change build upon a rich history of research on the environment, scholarship with policy implications, and education. The Center for Natural Carbon Capture is part of this history, and it epitomizes Yale's approach to tackling global problems—bridging disciplines to foster truly collaborative, innovative problem-solving."
Peter Salovey
Yale University President
New Solutions to Reduce Net Greenhouse Gas Emissions
Technological advancements over the last century have improved the wellbeing of most of humankind, but they have come at a cost. Greenhouse gas emissions, especially carbon dioxide, mainly from fossil fuel use, deforestation, and agriculture, have induced changes to our climate that impact our lives, health, and economic security. Without intervention, potentially catastrophic consequences may be unavoidable.
Emissions reductions are crucial, but alone are not enough. Natural processes that draw carbon out of the atmosphere and sequester it in plants, soil, and rocks already exist. We need to better understand how these processes can be enhanced to create reliable, affordable, and scalable strategies to decrease net greenhouse gas emissions.
The Yale Center for Natural Carbon Capture, part of Yale's multi-disciplinary Planetary Solutions Project, will investigate this area's enormous potential. The transformative gift of FedEx will fund professorships, post-doctoral fellowships, and graduate students, provide support for research and cutting-edge instrumentation, and underwrite outreach, conferences, and events, helping Yale lead the way to a more sustainable future.
Research Focus Areas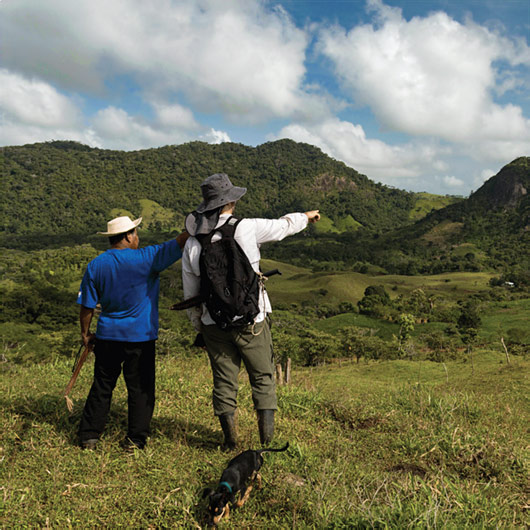 Ecosystem Capture
Enhancing the ability of ecosystems, agricultural crops and soil, and algae to take up carbon, with a focus on forest restoration.
Geological Sequestration
Expanding subsurface carbon storage and accelerating the ability of rocks and minerals to lock up carbon in stable, essentially permanent and limitless storage.
Nature as a Model
Using synthetic processes to convert carbon dioxide into fuels or materials, using both photosynthesis and natural geochemical processes as a model.
"Earth's natural systems are ripe with opportunities, and the Center for Natural Carbon Capture will enable research that transforms these opportunities into real-world, applicable solutions."
Ingrid C. "Indy" Burke
The Carl W. Knobloch, Jr. Dean of the Yale School of the Environment (YSE)
"The advantage of this center is that it draws in and bridges the many disciplines and perspectives we need to address this colossal challenge and help change our planet's trajectory."
David Bercovici
The Frederick William Beinecke Professor and chair of Yale's Department of Earth and Planetary Sciences
Be Part of the Solution
Carbon capture represents a quickly evolving area with the potential to make significant impact in mitigating the effects of human-caused environmental disruption. While FedEx's generous gift enables this work to grow, the Center requires additional funding to fully realize its ambition, scope, and reach.
This Center is a part of the Planetary Solutions Project, a broad effort to enhance collaborative research and education to address climate change, biodiversity loss, and planetary health.
Learn more about how you can support the Yale Center for Natural Carbon Capture and the Planetary Solutions Project.
Open Faculty Positions
The Yale Center for Natural Carbon Capture invites applications for up to four tenure-track appointments, at any rank (assistant, associate, or full professor) in the natural sciences. Areas of interest include, but are not restricted to, conservation, restoration, and management of forest and grassland ecosystems; blue carbon; agricultural practices; enhanced silicate weathering; and ocean alkalinity enhancement.
Postdoctoral Opportunities
The Yale Center for Natural Carbon Capture is seeking postdoctoral scholars and research scientists in areas of enhanced mineral weathering, ocean uptake, blue carbon, and forests and agriculture.