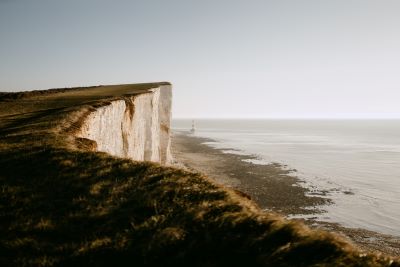 Southwest Airlines Co.® this week announced its support of an ambitious effort at Yale University to address climate change through a program of scientific research and technological innovation. With a commitment to contribute $10 million, Southwest will join FedEx in a growing consortium linking corporations that share similar commitments to sustainability goals.
The pledge will fund activity at the Yale Center for Natural Carbon Capture and the Yale School of the Environment (YSE), focusing on new possibilities to reduce atmospheric carbon.
Established in March 2021 with initial funding from FedEx, the Yale Center for Natural Carbon Capture (YCNCC) has emerged as a major initiative within Yale's Planetary Solutions Project, a university-wide effort to help solve Earth's climate and biodiversity crises. Taking inspiration from natural processes, the center focuses on strategies for removing carbon dioxide from the atmosphere and safely storing it within plants, soils, rocks, and the ocean. It also aims to develop methods for industrial carbon capture to convert carbon dioxide into useful fuels, plastics, and building materials.
David Bercovici, the Frederick William Beinecke Professor of Earth and Planetary Sciences, and Liza Comita, professor of forest ecology in the Yale School of the Environment, are co-directors of the YCNCC.
"Our strategy is two-fold," says Bercovici. "We ask fundamental questions across the fields of geology and biology to better understand natural carbon cycles. We then look to apply our discoveries toward practical solutions for carbon capture and storage."
"We need to drastically and rapidly reduce anthropogenic greenhouse gas emissions, while at the same time identifying ways to draw down and store carbon dioxide from the atmosphere," says Comita. "With natural systems, we're looking for climate solutions not only at a large scale, but also with co-benefits such as improved forest and soil health, biodiversity conservation, and support for local livelihoods."
Southwest will also support a research and educational collaboration program with the Yale School of the Environment, as part of the  planned contribution. The collaboration will explore the current state of sustainability strategy, policy, and economics, emphasizing trends related to the aviation industry.
"The climate crisis is the biggest challenge we face as a species," says Michael Crair, vice provost for research at Yale. "To find solutions, we will need the very best efforts of scientists and policy experts at Yale and around the world. It's a collaborative effort, and I am so grateful that Southwest Airlines has stepped forward to join our efforts in creating a sustainable future."
This commitment complements Southwest's stated long-term goal to achieve carbon neutrality by 2050. Southwest also recently announced its 10-year plan to maintain carbon-neutral growth every year through the end of the decade, and Southwest plans to achieve that goal, in part, by reducing its carbon emissions intensity by at least 20 percent by 2030.
"At Southwest, we are striving to strengthen our environmental stewardship and achieve our carbon neutrality goals," said Stacy Malphurs, Vice President of Supply Chain Management & Environmental Sustainability for Southwest Airlines. "While we are focused on our 10-year  plan, we recognize the importance of supporting initiatives that take a holistic approach to de-carbonization in the long-term. Scientific research and development are crucial to tackling climate change, and we're honored to be part of Yale's groundbreaking work in this vital space."
Funding from Southwest will enable the center to support faculty members, post-doctoral fellows, and graduate students engaged in research efforts on climate change mitigation and adaptation across the natural sciences and engineering at Yale. It will supply seed-funding for innovative lines of research, secure cutting-edge instrumentation, and help to underwrite outreach, conferences, and events.
Photo by Aivars Vilks on Unsplash